Alfatherm: style and innovation for the interior design at Interzum 2019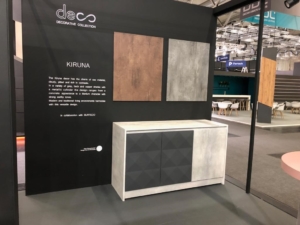 Cologne, 21 May 2019 – Alfatherm, a European leader in the production of thermoplastic films for the furniture industry, is strongly committed to continuing offering its customers a greater choice of products, and the chance for them to create their own individual style to reflect their personalities.
One of the most interesting products showcased at the Interzum 2019 exhibition in Cologne is SERICA®: a warm, captivating and silky finish. Extremely robust, incorporating anti-scratch and anti-fingerprint technology, SERICA® is designed to cover all types of furnishings in homes, offices and stores and is an excellent choice for exhibition contractors and specialised projects.
The SERICA® surfaces are available in a number of solid colours as well in a variety of heartwood and sapwood tones, which allow combinations with no limits to creative imagination.
In addition, in case of micro-scratches occur, SERICA® can be easily repaired. It is sufficient to use a simple iron or a hairdryer to renovate the surface.
At Interzum 2019, Alfatherm also presents the new décors of the Ingenium collection: a new generation of 3D furniture foils, developed thanks to its exclusive and innovative EIR (Embossed-In-Register) technology.
Alfatherm's breakthrough in-register synchronized embossing technology allows today the development of exclusive décors which features the true look and feel of wood and an impressive level of realism of the different textures.
In 2018, Alfatherm launched the Futura line, new surfaces made of recycled materials. The first product of this line is SERICA® Futura, made of recycled PET polymer from bottles, coming from qualified and traceable suppliers.
"The collections we showcase this year at Interzum – said Barry Berman, Alfatherm Marketing Manager – is very rich in surfaces, textures, and colours and offers our customers a unique and high-quality product range. We are particularly proud to present a piece of furniture highlighting the exceptional properties of SERICA both in terms of thermoforming and aesthetics. The doors, inspired by the bossage style of the Palazzo dei Diamanti of Ferrara in Italy, allow an astonishing effect of light and shadow, and are a perfect match with our new Kiruna décor, a surface with the charm of raw material, available in a variety of grey, black and copper shades."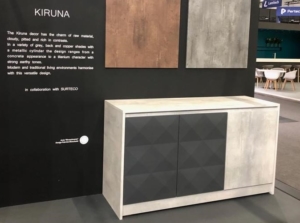 "Alfatherm is a company of the Made in Italy particularly devoted to innovation and internationalisation – said Francesco Trovato, CEO of Alfatherm – The growing success of our products for surface decoration and interior design with higher added value, such as high-quality 3D foils with sophisticated design thanks to our EIR technology, or the SERICA surface that gives unique feel to touch, confirm a great potential for expansion and growth on the international markets."